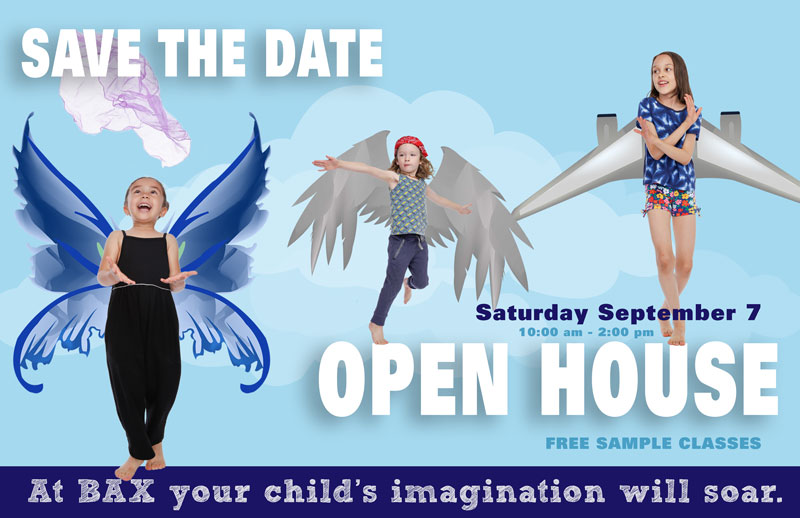 Free Sample Classes!
Dance, Theater, and Tumbling/AcroDance
ages 12 months-18 years
With summer upon us, we keep thinking forward!
Are you curious about our BAX Youth Education classes? Have you taken class at BAX before?
Whatever your answers are, join the families of the BAX community, meet BAX faculty and administrative staff and learn about our upcoming fall semester at our Fall Open House! We offer a fun, jam-packed day of free sample classes!
After School Pick Up Info Session 2-3pm
*There will be an ongoing Playspace in the BAX Theater from 10am-12pm. Bring your tots and let them play while you learn about our programs!
Pre-registration is strongly recommended.

Questions?, call 718-832-0018
STUDIO A
STUDIO B
STUDIO C
STUDIO D

Tumble Jumble


Ellie Weinman
4-5 years
10:00-10:45

Move & Groove


Stephanie Miller
18-30 months
10:00-10:45

Creative Movement


Rachel Freeburg
3-4 years
10:00-10:45

Playspace


Ben Weber
1-4 years
10:00-12:00

Tumbling/AcroDance


Maira Duarte
5-6/7-8 years
10:45-11:30

Move & Groove


Stephanie Miller
2.5-3.5 years
10:45-11:30

Creative Movement


Rachel Freeburg
4-5 years
10:45-11:30

Dance: Modern


Maira Duarte
5-6/6-8 years
11:30-12:15

Dance: Ballet


Rachel Freeburg
5-6/7-9 years
11:30-12:15



Drama: Object Theater and Puppetry


Emily Batsford
7-9 years
11:30-12:15

Drama Rama


Emily Batsford
5-6/6-8 years
12:15-1:00

Bois (Boys) Movement


Ben Weber
6-9 years
12:15-1:00

Dance: Hip Hop


Skye Montante
7-12 years
12:15-1:00

Dance: Movement of the Afro Diaspora


Dani Criss
7-10 years
1:00-1:45

Drama: Dance Act Sing Ensemble


Ariel Blake
7-9/10-15 years
1:00-1:45

Dance: Contemporary


Skye Montante
11+ years
1:00-1:45
View our 2019 Fall Semester & Early Childhood Season Class Schedules:
youth.bax.org/classes
Financial Aid Available! For more information, visit:
youth.bax.org/financial-aid