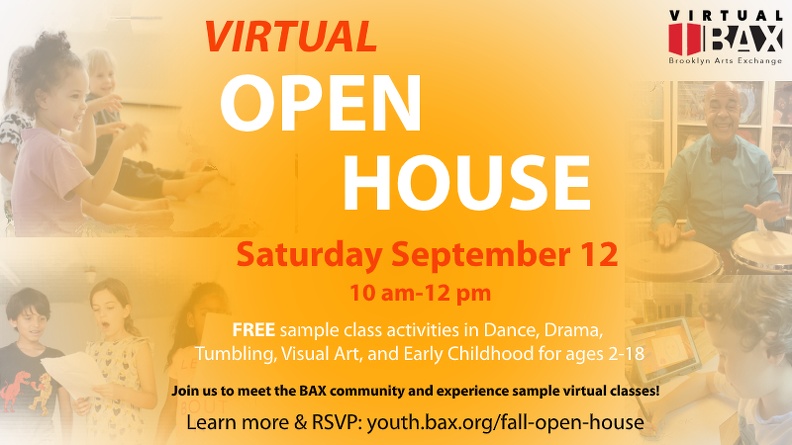 Check out this Open House Informational Slideshow to learn more about BAX Virtual Studio Classes!
Register for BAX Virtual Studio Classes HERE.
FREE sample class activities in Dance, Drama, Tumbling, Visual Art,
and Early Childhood  for ages 2-18!
Come one, come all! Join us on Saturday, September 12th for BAX's Virtual Fall Open House from 10-12 p.m on Zoom. While this may be our first virtual Open House, BAX has a long tradition of hosting a fall open house to welcome new & returning families & faculty into our community. BAX community engagement has never felt stronger nor as important than now as our circumstances inspire new and creative new ways we can come together. Join us to kick of 2020/21 season, trial sample class activities with beloved faculty, participate in a town-hall and brief orientation with BAX Education Staff, and for more fun!
 At the Open House, we will also unveil our fall class schedule and open registration!
Open House Schedule:
*BAX Performance Workshops: If you have a child aged 9-18 with dance and/or tumbling experience, who is excited about the possibility of joining a group of committed students to develop their technical, creative, and choreographic skills, we encourage you to attend one or both of our Performance Workshop Sample Classes during Open House. Meet prospective new as well as returning students and teachers to engage in an embodied activity and learn more about the program. Performance Workshop programs are year-long commitments and registration is by invitation only. After the sample class our staff would follow up with interested families about those next steps. Learn more: https://youth.bax.org/general-information/performance-workshops/
Performance Workshop Directors:
AcroBAX I, Diane Tomasi
AcroBAX II, Helen Tocci
DPW I, Donna Costello
DPW II, Skye Montante
DPW III, Helen Tocci