---
BAXco, BAX's youth dance company, is a repertory company that performs work by vibrant choreographers who are active in the dance world. These young dancers are exposed to many styles of modern dance through workshops, classes, and performances, and enjoy a multi-dimensional experience of the NYC dance scene.
Dancers are invited to join a company of sophisticated performing artists. The company's 3-hour weekly rehearsal process combines technical training, learning BAXco repertory, and engaging in highly collaborative processes with guest choreographers. Company members are ambassadors for BAX programs who perform at a professional level on stages throughout NYC and beyond including: Kumble Theater (Brooklyn, NY), WOW Café (New York, NY) and Dance and Co. (Harrisonburg, VA). The company also enjoys a more in-depth exploration of the administrative work of a dance company by supporting the fundraising, marketing and promotion of their work.
These dancers of different strengths and mixed ages thrive together. Older members mentor new members, and the company constantly learns from and inspires one another while building a cohesive ensemble experience. Dancers reap the benefits of diverse exchanges with other teen dancers and artists in NYC and beyond during through BAX's annual Teen Arts Conference, collaborations with Virginia's Shenandoah Dance Theatre, etc.
BAXco is a year-long commitment for young dancers wishing to expand their experiences as artists in the dance community.
BAXco Director
DANTÉ BROWN began his dance training at Wesleyan University, which led him to The Ohio State University to receive his MFA in Choreography and Performance. As a performer, Danté has worked with artists such as Esther Baker-Tarpaga, Christal Brown, David Dorfman, Kendra Portier, and Noa Zuk, among others. After founding Danté Brown|Warehouse Dance in 2010, DB|WD has had the opportunity to show work at Boston Contemporary Dance Festival, Columbus Dance Theater, Dance Gallery Festival, Dixon Place, GAP Green Building, LaMaMa Moves Festival, Movement Research at Judson Church, The New Museum, Sam Houston State University, Triskelion Arts, The Wild Project, Wexner Center for the Arts, and YourMove Dance Festival. As an educator, he has had the opportunity to teach a range of classes at Broadway Dance Center, Dancewave, Dance New Amsterdam, East Village Dance Project, Gibney Dance Center, The Ohio State University, and Peridance Capezio Center. In addition, Danté has held adjunct faculty positions at CUNY Westchester Community College and Bates College.
BAXco is hosts a series of classes taught by guest artists that are open to students 13+, BAXco Members, and pre-professional dancers interested in learning from an established NYC dance artist. Guest Artist Class students are expected to have prior dance experience. There is a $10 fee.
Sunday, January 8, 2017, 12:00-2:00 pm, with Kendra Portier 
Friday, February 10, 2017, 4:30-7:30 pm with Brother(hood) Dance!
Friday, February 17, 2017, 4:30-7:30pm with Brother(hood) Dance!
Thursday, April 6, 2017, 5:30-7:30pm – Britney Falcon
Thursday, June 8, 2017, 5:30-7:30pm – Open Audition for 2017/18 Company with BAXco Director, Danté Brown
Email info@bax.org or call 718-832-0018 to register in advance (recommended but not required). 
KENDRA PORTIER is a performer, teacher and choreographer whose work is rooted in poetically framing everyday humanness with all its gruesome, gorgeous, and heartbreaking minutia. Her work has received support through a variety of performance and research facilities, including Bates Dance Festival (ME), Dance New Amsterdam (NY), Gowanus Arts + Production (Brooklyn, NY), and she has taught internationally at universities, festivals, and dance programs. Currently, she is an MFA candidate at the University of Illinois Urbana Champaign and has been a member of David Dorfman Dance since 2010. More information can be found at kendraportier.com.
BROTHER(HOOD) DANCE!'s choreographic process  examines the intersection between gender, social, political and cultural constructs of western philosophies, and livelihoods from a African diaspora male and female perspective. Through the use of Brother(hood)'s personal experiences, historical and current references and accounts, the organization seeks to better understand how freedom has been an unattainable right due to governmental restrictions. By understanding the process of freedom, Brother(hood) Dance! uses movement to translate and discover humanistic and thought provoking questions, and resolutions.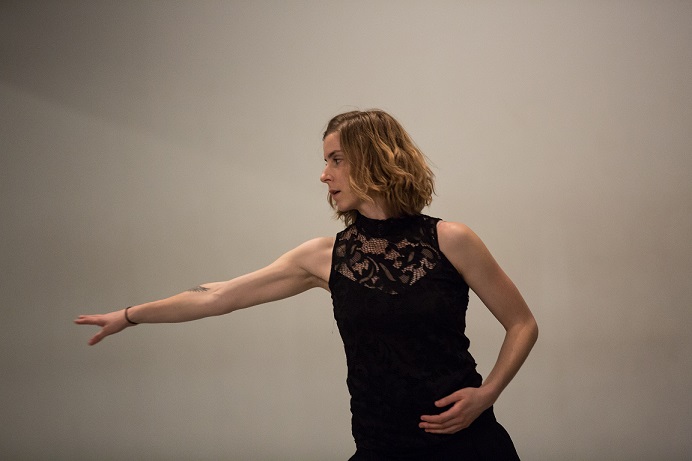 BRITNEY FALCON was born in Stoughton, MA but grew up in Rochester, NY. As a BFA graduate of The College at Brockport, Britney was the recipient of The Rose L. Strasser Dance Award showing promise in the field, a recipient of the Friars Foundation Award for summer study, had her choreography nominated for ACDFA, and attended the Bates Dance Festival on a Merit Scholarship. During her senior year she was nominated for the School of Arts and Performance Outstanding Undergraduate Student Award. Since graduating Britney has been named The Muse Brooklyn's Presenting Artist in Residence, the NYU Gallatin DCA spring semester Artist in Residence, and the New Dance Collective 2017 guest artist. This summer she will have the pleasure of being the Bates Dance Festival Emerging Choreographer. As a performer, Brit has had the pleasure of working with William Evans, Kista Tucker Dance, Inc., Treeline Dance Works, TrioDance Collective, B.S. Movement, Donnell Oakley, Keigwin  + Company, Jen Kosky Dance Theater, and David Dorfman Dance. Her choreography has been shown throughout Connecticut, Pennsylvania, and New York, and in venues such as 92nd St. Y, Dixon Place, Triskelions Arts, BAX/Brooklyn Arts Exchange, Green Space, Rochester Fringe Festival, Alchemical Theatre Laboratory and The Center for Performance Research. Brit teaches regularly at Gibney Dance Center and works at Dynamic Alignment Training Center as a movement therapist. 
Requirements and How to Audition
Company members are experienced dancers and must audition by attending a free trial class. BAXco is for dancers 13+ years old.
Company members are expected to:
Commit for the whole BAXco season.
Take at least 2 dance classes per week (at BAX or outside of BAX) in addition to the weekly BAXco Company class and rehearsal
An open audition to join the 2017/18 company will be held on June 8, 2017, 5:30-7:30 PM.  Contact us at 718-832-0018 or info@bax.org to register for this audition or to arrange an alternative audition/trial date.